We are the solution you've been waiting for...

WordPress Support for Your Business
We Make Your Life Easier!
Professional Website Management, Support and Security 365 Days a Year!
Could your business survive its website being offline for a day?
What if it was Offline for a Week?!

Wouldn't your life be easier if you had a support technician monitoring your site and standing by to help you with the following: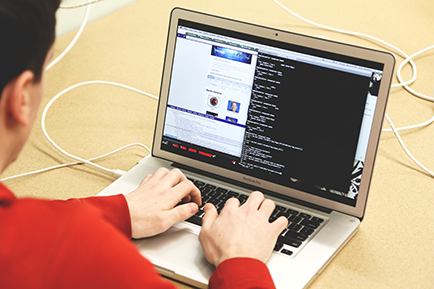 WordPress has become a leading global business web development tool.
With 23% of websites in 2015 being based on the Wordpress platform alone and its marketshare is still growing.
Constant support for those websites is quickly becoming a necessity in the expanding online marketplace.
It is projected that between 2016 and 2020 three billion new consumers and users of the internet will come online.
Are you positioning yourself for that NOW?
With quarterly updates to Googles search algorithm and constant changes in marketing trends
are you managing your web presence daily, all day long?
Do you even have time for that?
Your Time is Valuable to Your Business,
Why are You Spending it on Your Website?

You should be building your business relationships, not constantly updating your website.


Your Website is the Face of, and a Critical Tool for, Your Business. Your site advertises your products, services, generates leads, engages customers and partners, attracts new employees and produces income. If it's not doing that,

it should be

.


All Online Resources and Software are Vulnerable! If industries and governments can be hacked so can your website. Your competitors know this and they are moving to meet this challenge with ongoing website support themselves.


Do it Yourself. Keeping your sites code up to date, backed up, and secure is tedious and time-consuming. Technology changes more rapidly daily, can you keep up with the changes in knowledge and best practices?


Generic Help Through Hosting Providers. It's available and those resources are typically experienced but they may not be diligently working on your site, especially if the price point is quite low.




Why Hire Us? Because we know WordPress, even this site is built on it. We have grown with the technology and the online marketplace and we are planning for its future. 


What We Offer. Peace of mind that your website will remain online, operational, and secure. We'll take care of all the tedious tasks while you manage your business and work with your clients the way you should be.


Return on Investment. Utilizing our service means your website will be working for you the way it's supposed to.  If you made the investment to have your site built don't let it go to waste letting your site decay online or worse become vulnerable to hacking.


Who We Work With. We like clients that understand the value of their online presence and why it's important to stay online. Success in business doesn't come from doing nothing. Your website is a tool for your business, it needs to be protected and utilized.


Hire Our Experts and

Stop Stressing.

Our Dedicated Team is Here to Help You and Your Business Website Needs.
| | | |
| --- | --- | --- |
| BRONZE PACKAGE | SILVER PACKAGE | GOLD PACKAGE |
| | | |
| | | |
| | | |
| Install Code Updates Daily | | |
| | | |
| Weekly Security Audits & Uptime Monitoring | | |
| | | |
| SSL Certificate | | |
| | | |
| Bi-Weekly Full Site Back Up | Weekly Full Site Back Up | |
| | | |
| One 30 Minute Scheduled Session a month to Assist you with Site Content | Daily Database Back Ups | |
| | | |
| | Two 30 Minute Sheduled Sessions a Month to Assist you with Site Content | Unlimited* Small Task Assistance with Your Site Content |
| | | |
| Apply Now | Apply Now | Apply Now |
| | | |
| | | |
Our Support Team is Standing By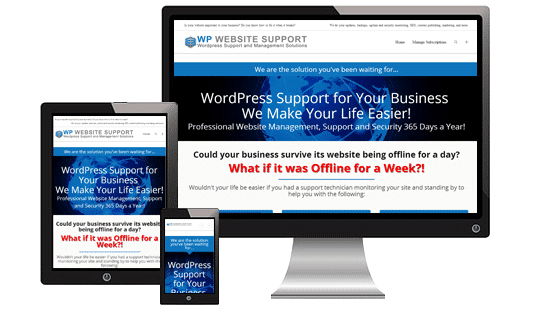 Platinum support package strategy sessions are scheduled in advance and are conducted by telephone or Skype.


Unlimited* Small Task Assistance with Your Site Content
small tasks include any task that takes us less than 30 minutes to complete and typically covers things such as adding a testimonials, staff profiles, and updated or new page copy to your website. These tasks are submitted through our support ticketing system. These tasks do not cover advanced features such as a complete online shop or membership section installs or overhauls.
These plans are offered on a subscription basis and do need to be paid monthly in advance. There is no contract for any of these plans and you are free to cancel any time.


Sign Up Today and Get Peace of Mind that Your Website will be Up-to-Date and Online Tomorrow.